Come in, relax and de-stress.
There is little doubt that we are currently living in stressful times. There seems to be less and less time available to spend on ourselves but, if there's one thing you really need to look after in this lifetime, it's you.
With many years of professional experience, Jacqueline Montague is perfectly suited and qualified to help you to slip out of the bonds of your normal busy life and transport you to a place of peace, tranquility and relaxation.
Have a leisurely browse around my site and when you feel ready to give yourself the attention you really deserve, just contact me to find out what relaxation is really all about.
Most Popular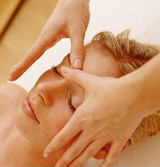 Reiki Healing
Align the internal balance of your body and mind. Reiki has been used for centuries to maintain a feeling of vitality and wellbeing. Read more about it, just click here. Your first session will include a full medical consultation. Treatments can take up to 90 minutes.
Eyelash Tint
Make the most of your lashes with long-lasting colour. Clients receiving this treatment for the first time are recommended to have an allergy test prior to the application of the tint. Allow up to 20 minutes.