Come in, relax and de-stress.
There is little doubt that we are currently living in stressful times. There seems to be less and less time available to spend on ourselves but, if there's one thing you really need to look after in this lifetime, it's you.
With many years of professional experience, Jacqueline Montague is perfectly suited and qualified to help you to slip out of the bonds of your normal busy life and transport you to a place of peace, tranquility and relaxation.
Have a leisurely browse around my site and when you feel ready to give yourself the attention you really deserve, just contact me to find out what relaxation is really all about.
Most Popular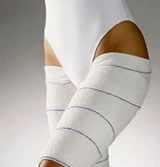 Anti-Cellulite Thigh Wrap
Beat cellulite with a thigh wrap for instant results. Slenderthighs™ successfully targets the fatty fluids of the thighs and bottom. This is a year-round treatment using warming fluid. An exfoliation is recommended the day before and no shower is needed after the treatment. Allow up to 45 minutes.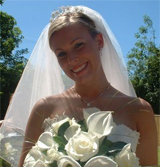 Bridal Make Up
This treatment includes a skin consultation, facial and a full make up rehearsal with a personalised beauty chart prior to the wedding day. Then, on the big day you get a cleanse, tone, moisturise and full wedding make up. This also makes a special gift for the bride/groom's mother.